Fastmarkets platform
Commodity markets move fast. Keep up with the Fastmarkets platform
Commodity trading and negotiations can be challenging at times. During high inflation, market volatility, shifting trade flows, supply/demand imbalances and extreme weather conditions, access to market-reflective price data and analysis could give you a strategic advantage.
The Fastmarkets platform gives you greater transparency into the markets important to you so that you can react quickly and minimize your exposure to risk. Inside the Fastmarkets platform, you can harness new insights into your commodity markets with access to richer, more complex data allowing you to work smarter – not harder.
We built the Fastmarkets platform so you can access real-time insights, price alerts and forecasts and analysis anytime you need them.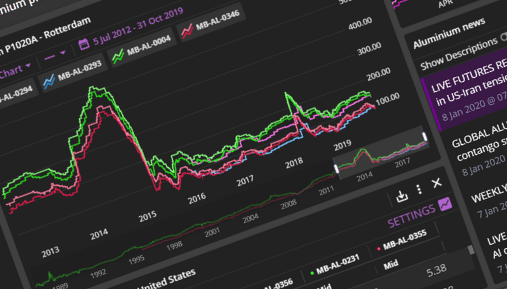 Whether you buy, sell or trade in commodities, the Fastmarkets platform gives you back the control to understand and react quicker to market changes
How the Fastmarkets platform can help you
An optimized experience
You can commodity market news, price data and analysis through any one of five delivery channels: desktop dashboard, web dashboard, mobile app, e-mailed newsletters, an Excel Add-in, underpinned by an advanced API. No matter how you access Fastmarkets' content, you'll find the latest updates from our team of more than 200 price reporters and analysts covering more than 2,000 commodities.
Select and build your lists of prices, news filters and charts in a dedicated space for each of your core markets or materials
Know when a price changes, is published or when it falls below or above a certain parameter
View monthly averages, convert units or currency, create and save chart comparisons, seamlessly integrate with live spreadsheets via the Excel add-in
Available on Android or iOS to track prices and market news wherever you are
Available as a desktop application, or through your web browser, easily configure the views and widgets as you want, quickly viewing the data and news that you need
Integrate Fastmarkets' data into your tables, formulas, and curves, or other planning, reporting, and analytic workflows that help drive your business forward by using our Excel add-in
Extend the reach of your data through our seamless, secure and fully integrated API. Stream our prices directly into your own ERP or proprietary systems, giving you and your teams' one less thing to do during the day
Whether you buy, sell or trade in commodities, the Fastmarkets platform gives you back the control to understand and react quicker to market changes
Fastmarkets combines the commodity intelligence of these familiar names:
Metal Bulletin • American Metal Market • Scrap Price Bulletin • Industrial Minerals • RISI • FOEX • The Jacobsen • Agricensus • Random Lengths • FastMarkets and more
We recognize the importance of being clear about our price assessment and index process. Our independently audited pricing process aligns with core IOSCO principles. Find out how our price reporters and analysts assess and forecast prices in agriculture, forest products and metals
Talk to us
Whether you're interested in learning how to become a customer from our sales teams or looking to get in touch with one of our reporters, we're here for you.
Speak to our team
Why use a price reporting agency?
Navigate uncertainty and make business decisions with confidence using our price data, forecasts and critical intelligence.
Learn more